Nations Starter & Alternator
2210 Broadway
Cape Girardeau, MO 63701
Phone: (573) 334-2632 & (888) 334-2632
Website: www.nationsstarteralternator.com

Join us on Facebook!
Follow us on Twitter!
About Us
Nations Starter & Alternator
'You Really Want To Start Something"


COMPANY CONTACT INFORMATION:
Main Office:
Nations Starter & Alternator
2210 A Broadway
Cape Girardeau MO 63701
Toll Free: 1-888-334-2632
Shop: 1-573-3342632
Fax: 1-573-332-0588
Emails / Inquiries: Sales@NationsStarterAlternator.com
Click to view our Return Policy
Email: sales@nationsstarteralternator.com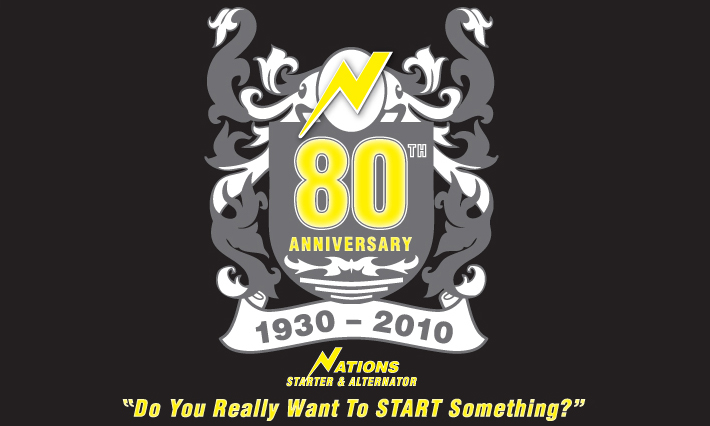 Nations Starter and alternator is a family owned company operating in Southeast Missouri.
Our company was started in 1930 by Robert Lee Nations and his Brothers. Robert Nations was the 7th son of 7 straight boys from Morley, Missouri. The company soon settled in a thriving town on the Mississippi River. Cape Girardeau, Missouri is still our home today.
We've relocated in the town several times in 82 years but we're still only a couple miles away from the "Mighty Mississippi"
We are a hometown company that strives to keep up with the ever changing electrical system needs and meet the challenge head on. We excel in getting hard to find starters and alternators and making conversions for demanding applications. Our years of experience in the auto electrical field and willingness to serve set us apart from the rest.
We are committed to being here to service our customers in the future with dependable starters alternators and parts and personal customer service. We specialize in electrical system parts and service to fit the needs of our customers. We strive to keep up with the latest technology and products to give our customers the very best. Quality and Service, our number one priority. "
"WE RUN OUR BUSINESS BY THE GOLDEN RULE"
We firmly believe this! That belief is what has enabled us to serve our customers for over
80 years and counting
.
New Starters & Alternators-
We are affiliated with suppliers coast to coast. We are the best at locating those hard to find parts or getting you the part you need at a better price. New o.e.m parts from delco, denso, motorcraft, mitsubishi, hitachi and others and the industries leading aftermarket manufacturers. We only sale the best!
Specialty rebuilding bench-
If you need a fast repair or an antique overhauled, we can do it. No job is too big or too small.
Mission Statement-
Our Mission is to serve our customers with integrity and expertise in our specialized field of starters, alternators and electrical system service. Our goal is to solve problems in a timely manner with the attitude of good will and demonstrate abilities of excellence. We will finish each task with our personal seal of a job well done to the best of our abilities.
Photos
Click any photo below to get a larger view or view the slideshow.